There are many artists, designers, and architects that employ beautiful, intricate and complex patterns. I've compiled the "best of" collection to inspire you for your Patterns Assignment. Each image is accompanied by a short description of the artist/designer/architect/etc., and each name is hyper-linked to their website (if applicable), so you can get more details on the people that inspire you the most.
1. Sol LeWitt, whose deceptively simple geometric sculptures and drawings and ecstatically colored and jazzy wall paintings established him as a lodestar of modern American art.
2. Buckminster Fuller is an author, scientist, artist, inventor, architect, engineer, philosopher, mathematician, metaphysician, cartographer, visionary, social historian, creator of dymaxion engineering, geodesics, synergy, synergetics, World Game & world resources inventory, arguably the first modern futurist.
3. Organic and geometric structural patterns of artist Kenneth Snelson, whose work focuses on the patterns of physical forces in three dimensional space.
4. Andy Goldsworthy is a brilliant British artist who uses nature to make his intricate, transient, and ephemeral patterns. His goal is to understand nature by directly participating in nature as intimately as he can. He generally works with whatever comes to hand: twigs, leaves, stones, snow and ice (my favorites), reeds and thorns.
Icicle Star, joined with saliva
Oak Leaves and Holes
Rowan Leaves & Hole
Pebbles & Hole
Twigs & Hole
Pigeon Feathers
5. Le Corbusier (born Charles-Édouard Jeannere) was a Swiss architect, designer, urbanist, writer and painter, famous for being one of the pioneers of what now is called Modern architecture or the International style.
6.Bridget Riley is is a British painter and designer. She shows a complete mastery of the effects characteristic of Op art, particularly subtle variations in size, shape, or placement of serialized units in an overall pattern.
Blaze
Breathe
Cataract
Descending
Two Blues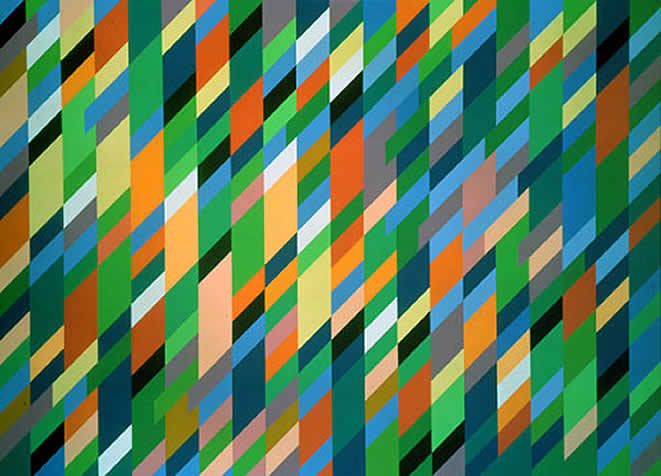 High Sky

7. Robert Zakanitch paints lace and embroidery. His patterns are beautiful and speak to the shifting instability of texture.
Red Squirrel
Blue Birds
8. Take a close look at the figure-ground relationship in the works by M.C. Escher, who is most known for his impossible architecture and landscape drawings, showcasing his play on perspective and point of view to create structures which ultimately cannot exist. I have always been more captivated by Escher's pattern works. His ability to create a fluid and seamless plane of repeated images fitting perfectly together is both unrivaled and inspiring.
Horsemen
Angels and Devils
Geckos
9. One of my absolute favorites has to be Islamic art & architecture. I love how everything is extremely intricate, yet uses very simple shapes.
Detail of Islamic art from Golra Sharif in the Punjab of Pakistan (near the capital Islamabad). This is classic Islamic abstract work.
Typical Islamic design on a pillar from the mosque of Wazir Khan in Lahore, Pakistan. It was built in 1634 during the rule of Mughal emperor Shah Jahan, a period acknowledged as the golden age of Mughal architecture in the subcontinent. It was during this period Shah Jahan built the Taj Mahal in memory of his wife Mumtaz.
If you want to witness the splendor of Islamic art and design then get down to Granada, Spain. Beautiful detail of geometric patterns.
10. Japanese paper is another beautiful source for pattern inspiration.
11. Navajo Weaving has a unique look, drawing from its Spanish and Pueblo history and nomadic way of life.
12. Traditional Amish Quilts lend patterns that have beauty in simplicity. Modern quilt artists are using black with solid colors and discovering the beauty in such basic designs.
13. Fractals are mathematically-based functions that produce the most stunning patterns in nature.
Romanesco Broccoli: this variant form of cauliflower is the ultimate fractal vegetable. Its pattern is a natural representation of the Fibonacci or golden spiral, a logarithmic spiral where every quarter turn is farther from the origin by a factor of phi, the golden ratio.
Many plants follow simple recursive formulas in generating their branching shapes and leaf patterns.
Crystallizing water forms repeating patterns in snowflakes and on frosty surfaces.
14. African Textiles are infused with spiritual and mythical meaning in the actual pattern designs on the cloth. Specific patterns are also used as a form of identity with each tribe having their own unique patterns.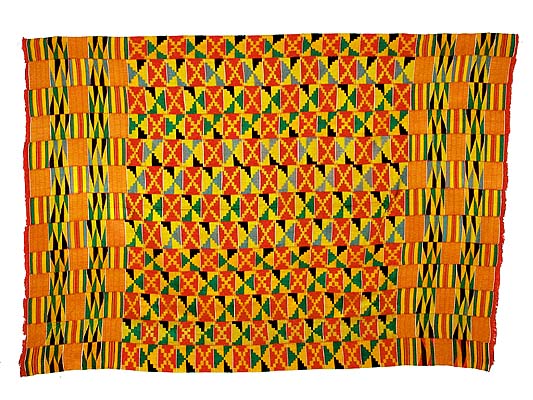 Asante Kente Cloth, Ghana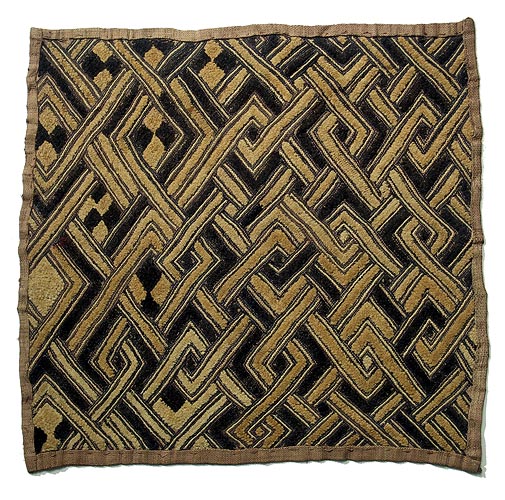 Kuba Textile, Congo
Karibu Textile, Tanzania
Can you find more patterns inspiration?